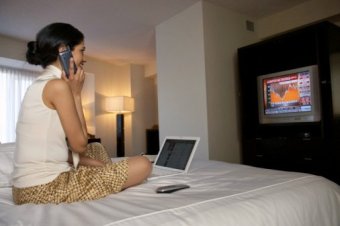 The 2012 London Olympics showcased both the potential and the pitfalls of social TV. On the day sprinter Usain Bolt won the 100-meter dash, Bluefin Labs tracked 2.1 million social media comments related to NBC's broadcast of the race.
But the so-called "social media Olympics" also revealed significant challenges remain when it comes to integrating TV networks and social media. NBC was criticized for how it handled several aspects of the social-TV mix, while Twitter came under fire for its role in the brief shutdown of a reporter's account.
Yet even with the media hiccups, the Olympics showed that consumers were willing to engage with social media before, during and after a broadcast. Pew Research Center for the People & the Press found that 12% of US consumers surveyed during the games were following Olympics coverage on social sites. Young people were significantly more likely to follow the Olympics on social networking sites, with 31% of 18- to 29-year-olds saying they had done so.
According to Trendrr, an analytics company that aggregates publicly available social media commentary about TV and TV shows, in June 2012 there were more than 81 million conversations about TV on Twitter, Facebook and a host of other social media properties, including GetGlue, Miso and Viggle. In June 2011, there had been just 10.4 million, based on Trendrr's tracking. Between 2011 and 2012, Trendrr began tracking 38 more TV networks, which was the reason behind the large growth. But even on an adjusted basis, comparing the same variables from year to year, the number of conversations still nearly tripled.
With these signs of traction, the TV networks are making more of an effort to gain revenue from social media, according to a new eMarketer report, "Social TV: Marketers Tune In to Deeper Integrations." They are pitching advertising opportunities on second-screen apps and within Twitter and Facebook integrations. Companies such as Capital One, The Coca-Cola Co., Dodge, Hyundai and PepsiCo have all participated in such social TV efforts, gaining valuable experience connecting with consumers in multiscreen environments.