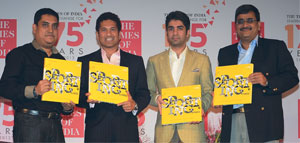 As part of The Times of India  175 years of  celebration, the Times Group launches "Sporting Times" by Boria Majumdar with Sachin Tendulkar , Abhinav Bindra and Shrijeetit Mishra- COO, Times Group. Please find attached release and pictures for the same.
This book is an attempt to document the Indian Sporting story through the lens of The Times of India. Being a part of the 175th anniversary celebrations, the book has sought to identify and reconstruct the best known 175 events that have made headlines in the history of Indian Sport in the years 1838 - 2013.
Commenting on the occasion Sachin Tendulkar said, " I congratulate Times of India on its 175th anniversary. Its a monumental achievement. Sporting Times bring alive the history of Indian sport wonderfully and I am looking forward to learning a lot from it.
Abhinvas Bindra expressed, " I congratulate Times of India on its 175th anniversary. For an institution to sustain itself from almost two centuries  with immense credibility is a massive achievement. And it gives me immense satisfaction to see the TOI bring out Sporting Times - the compilation of the best sports reports in India's sporting history. I feel proud and privileged to be a part of this history. With very best wishes.
Tags: 175 years of celebration Abhinav Bindra by Boria Majumdar Sachin Tendulkar Shrijeetit Mishra Sporting Times Times Group launches