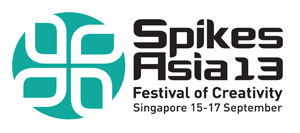 New Delhi :he Spikes Asia Festival of Creativity, Asia Pacific's premier awards and festival for the creative communications industry, has this year received a total of 4,832 entries from 20 countries.
Entries have been submitted into 16 different awards categories: Film (373), Print (565), Outdoor (762), Radio (154), Media 447), Direct (342), Promo & Activation (385), Digital (273), Print & Poster Craft (368), Film Craft (331), Design (263), PR (195), Mobile (124), Integrated (58), Branded Content & Entertainment (161), and Creative Effectiveness (31).
"This is an extraordinary amount of work that will require the full attention of the talented juries as they unite to select the best pieces of creative communications being produced in the APAC region," says Philip Thomas, CEO of Lions Festivals.  "The winning work which will drive inspiration and push the industry forward, will not only have an impact at a regional level, but also globally. We eagerly look forward to the results of Spikes 2013."
The winners will be revealed during the Spikes Asia awards ceremony on Tuesday evening, 17 September, at the Grand Theatre, Marina Bay Sands. Other accolades that will be announced are: Agency of the Year, Independent Agency of the Year, Media Agency of the Year, Network of the Year, and the Spikes Palm Award which is presented to the most awarded production company. Metro, Melbourne's train system, will be honoured with the 2013 Advertiser of the Year award. The event will conclude with the After Party at Avalon nightclub.
Spikes Asia Festival of Creativity takes place in Singapore 15-17 September and is set to welcome over 1,800 delegates from 28 countries who will enjoy three days of motivational content, partake in exclusive networking events and celebrate creative excellence. Spikes is jointly organised by Lions Festivals and Haymarket.
Australia has submitted the most entries with 710, followed by China with 679, Japan with 622, Singapore with 520, India with 509 and Hong Kong with 307 entries.
[stextbox id="alert"]
The 78 industry practitioners from APAC and beyond that make up the ten juries will shortly arrive in Singapore to cast their votes and decide on who will take home the coveted Spikes awards. Leading the juries are a very talented and much admired pool of people: Tham Khai Meng, Worldwide Chief Creative Officer of Ogilvy & Mather and Chairman of Ogily's Worldwide Creative Council (Film, Print, Outdoor and Radio plus Integrated); Jose Miguel Sokoloff, Chairman of Lowe SSP3 and President Creative Council of Lowe Worldwide (Direct and Promo & Activation); Masaru Kitakaze, Executive Creative Director and Corporate Officer of Hakuhodo (Digital and Mobile);  Mike Cooper, Worldwide CEO of PHD (Media); Derek Lockwood, Worldwide Director of Design, Saatchi & Saatchi (Design); Lynne Anne Davis, President and Senior Partner, Asia Pacific, FleishmanHillard (PR); Lo Sheung Yan, Chairman, Asia Pacific Creative Council, JWT (Craft); Anthony Freedman, Group CEO of Host, Sydney (Branded Content & Entertainment); and Jarek Ziebinski, President, Leo Burnett Asia Pacific (Creative Effectiveness).[/stextbox]
Tags: digital film media mobile Outdoor PR Print promo and activation Radio Spikes Asia 2013