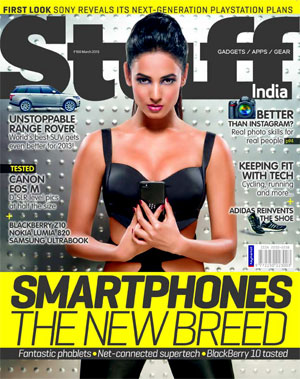 New Delhi: Bollywood heartthrob, Sonal Chauhan has been featured on the cover of  March 2013 issue of  Stuff India, ultimate guide to gadgets and technology.
Sonal Chauhan has been featured in the Cover Story on smartphones with her alluring beauty and charm, enticing the gadget-heads with the phone of their dreams.
Speaking on the core contents of this issue, Editor, Nishant Padhiar, says, "The March 2013 issue of Stuff features the ultimate Smartphone battle, a trick photography special feature to put Instagrammers to shame and all the latest in the world of fitness tech."
Sonal Chauhan was the perfect choice to feature on the cover of Stuff as she is the lead star of the upcoming movie 3G along with Neil Nitin Mukesh and the movie plot revolves around a 3G smartphone, and hence it blends perfectly with the Cover Story! Sonal also epitomizes the brand image of Stuff, which is young, trendy and very chic. The issue hit stands on Wednesday, 27th February 2013.
Tags: Medical Smartphones Sonal Chauhan