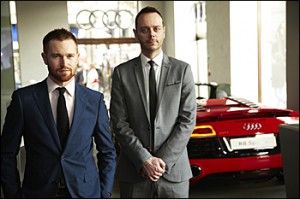 Audi UK has appointed Salmon as its new strategic digital and web partner. The main brief is to work with the premium car brand's in-house team to develop and implement new digital strategies focusing on the management of its website.
The appointment, made after Audi conducted its overall strategic review for 2013, will see Salmon assist Audi in creating digital marketing solutions across a variety of platforms including the hugely successful audi.co.uk website, which has over one million unique visitors per month.
Hugh Fletcher, National Digital Manager for Audi UK, explains: "The exciting partnership with Salmon will help place the brand at the forefront of digital marketing. The agency's experience and expertise in e-commerce, both in terms of creative front-end solutions and outstanding technical expertise, will help us achieve our goal of giving Audi customers the online experience they want and deserve in this constantly evolving digital world."
Andy Jones, Head of Customer Experience at Salmon, adds: "We fully appreciate the ever-expanding importance of providing innovative digital solutions and bring to the table nearly 25 years of knowledge and expertise in consulting, design, delivery and support services to leading premium brands."
Salmon, an eCommerce digital agency established in 1989, employs 420 staff across offices in the UK (Watford), China and Australia and provides services to clients, such as Argos and Selfridges. It was recently acquired (January 2013) by WPP – a world leader in marketing communications.
Tags: Audi car brand new digital Salmon web strategies