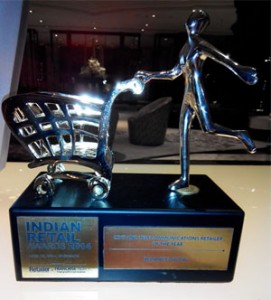 Reliance Digital, the consumer electronics & durables arm of Reliance Retail has been recognised as 'Best Indian Retailer – CDIT & Telecommunications' at the Franchise India "Indian Retail Show 2014" held in Gurgaon.
Reliance Digital is the consumer durables and information technology concept from Reliance Retail. The award recognises Reliance Digital's exemplary efforts in helping consumers bring home the latest & best in technology from the widest selection at the lowest assured price with complete peace of mind through lifelong support.
Reliance Digital aims to fulfil the dream of every Indian through its nationwide network of conveniently located stores by providing a delightful shopping experience of products & solutions. Further, through its sub-brand ResQ, Reliance Digital provides customers with an opportunity to experience exceptional service at several touch-points.
Inspired by the Reliance philosophy for excellence, ResQ has created an enviable reputation and a capability to understand and deliver solutions to meet consumer needs. ResQ experts offer guidance to customers, demonstrate a solution and help them with identifying relevant products and solutions. ResQ also takes on the responsibility of installation and networking that ensures optimum performance for all products and solutions.
Speaking on the award, Brian Bade, Chief Executive Officer (CEO), Reliance Digital said, "We are extremely proud to be recognised as 'Best Indian Retailer – CDIT & Telecommunications' at the Franchise India "Indian Retail Show 2014. This award has added another feather to our cap and is an inspiration to our entire team behind it. We hope to take the unique Reliance Digital experience further and we are looking forward to bringing happiness to many more homes which continues to be our biggest incentive."
Tags: Consumer Electronics durables Indian Retailer Reliance Digital Reliance Retail