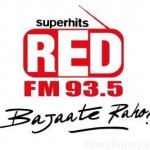 93.5 RED FM's RJs have seized the top spots in a report released by Ormax Media on the 5 most popular RJs in Delhi and Mumbai. Radio jockey Malishka, has been declared as the most popular RJ in Mumbai for the third time in a row, according to a study done by Ormax Media.
Known for its Bajaate Raho spirit, RED FM's irreverent RJs have been awarded again, making it India's favorite radio station. Since 2009, this periodic survey by Ormax Media identifies the most popular RJs in more than 15 markets. It help stations take content and communication decisions accordingly.
The recent study by Ormax Media established RED FM's unmatched talent in the radio industry. In Mumbai, Malishka is the no. 1 RJ, while RJ Rishi Kapoor seized position No. 4. In Delhi, 'Drama Queen' RJ Swati is at No. 2 followed by the most favorite RJ Raunac, a.k.a Bauaa at No. 5.  RJ Devaki in Ahmedabad and RJ Prateek in Lucknow are both at no. 2 in their respective markets.
Commenting on this achievement,Nisha Narayanan, COO, 93.5 RED FM said, "It is a proud moment for us, as our RJs have once again been recognized for their talent and hard-work. "
Tags: a.k.a Bauaa Drama Queen RJ Swati Ormax Media Radio jockey Malishka Red FM RJ Devaki RJ Prateek RJ Raunac RJ Rishi Kapoor RJs