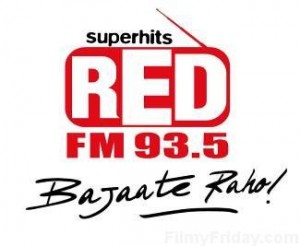 New Delhi: India's favorite radio station, 93.5 RED FM has always been known for its fresh ideas and fearless innovations.  With a complete shuffle of RJ line-up  and  new shows, RED FM brings for its listeners a fresh on-air format with competently revamped content.
From a full doze of fun & laughter with RJ Raunac in the morning who also plays the popular character 'Bauaa', to an afternoon full of Bollywood & gossip with RJ Swati, and an evening with the Delhi's coolest pranksters RJ Panky & RJ Ashish, the new line-up in 93.5 RED FM Delhi promises to Bajaao all day long with the best of RJs, the best of content and superhit music.
RED FM has stirred up the town with this program shuffling. The message on-air, "Red FM mein kuch adbhut hone wala hai" from past 4 days, has been racking brains and creating much curiosity and anticipation. The telephone lines at RED FM's office in Noida had been abuzz day in and out, with curious listeners wanting to know more about the "adbhut" change. It was only on Wednesday, i.e. on 22nd of January, that the new line-up was revealed on air.
Talking about the change, COO, 93.5 RED FM, Ms. Nisha Narayanan says, "RED FM strongly believes in the power of innovation. We have always been reinventing and renewing ourselves to offer the best of content to our listeners. The new line-up of RJs and shows is also a step in that direction. Raunac, popularly known as Bauaa and by far the city's one of the favourite RJ, will now make the mornings better & brighter with his unique witty style and thought-provoking take on everything. Similarly, for Rocky, Swati and Sachin in the afternoon, and Panky & Ashish in the evening, all the shows have been designed carefully, after a lot of research and brainstorming, and I am very sure Delhi will enjoy the newness. The whole idea was to innovate, to keep things fresh, and not let monotony set in."
Mr. Anand Raj, National Programming Head, 93.5 RED FM said, "Red FM believes in truly reflecting the city and its listeners' expectations. This has helped us bring in innovations which have become benchmarks for the competition. The current programming change in Delhi is an extension of that thought process. We have received fantastic feedback from our listeners; they are excited to hear the new line-up with engaging content."
[stextbox id="alert"]The new line-up and programming schedule is as follows:
1.    Morning No.1 with RJ Raunac (06-11 am)
2.    Vellapnti.com with RJ Rocky (11-01 pm)
3.    Drama Queen with RJ Swati, (01-03 pm)
4.    Athaanni Chavaani with RJ Sachin, (03-05 pm)
5.    DL 935 with RJ Panky & RJ Ashish, (05-09 pm)
6.    Midnight Masala with RJ Heena, (09-12 pm)[/stextbox]
Tags: Athaanni Chavaani Drama Queen Midnight Masala Red FM