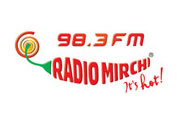 New Delhi: Radio Mirchi  is all set to add a little spice to life of a Delhi-ite by announcing the brand new season of RJ Hunt. The participants can showcase their wit, passion and originality and be the next voice of Radio Mirchi.
Mirchi kick started its first RJ Hunt in 2004 and picked RJ Naved for his unique personality. Continuing with its effort of promoting fresh talent in the industry, Radio Mirchi has once again kick started a city wide search of RJ Hunt.
Enthusiasts aged 18 years and above can submit their voice samples between 11.30am to 7.30pm at Mirchi mobile studios that are stationed at various malls in the city. Alternately they can also enter the contest by sending in their entries at Mirchi's IVRS line 42983983 or email the audio clip at mirchidelhi@gmail.com before July 9, 2013.
The first round will gauge the participant's spontaneity. Radio Mirchi will then invite 100 contestants for a live audition which will be judged by the station expert jocks. Successful 10 contestants will then move on to the next grueling yet fun round of audition. These contestants will be judged by co-hosting a show with One RJ.
Commenting on this initiative Vivek Modi, Cluster Head for North region, Radio Mirchi 98.3 FM said "Radio has become an integral part of life of listeners today and RJs are becoming role models for the youth. We are happy to conduct the RJ Hunt in Delhi again. This platform has given us our best talent in past like RJ Naved and we hope this continues".
A mellifluous voice, a striking personality and an engaging aura… Do you have what it takes to be Delhi's favourite voice. If yes, then Radio Mirchi is the place to be!!! Radio Mirchi 98.3 FM, India's popular FM station is on a spree to hunt down Delhi's best talent for it's station.
So, let go of all your inhibitions, showcase your fun quotient, sing to the music and dance to the tunes and become the next RJ
Tags: Radio Mirchi RJ huht RJ Naved