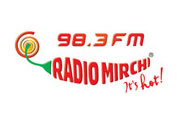 Radio Mirchi is saluting the spirit of womanhood in a unique and exceptional way. To celebrate every woman of Mumbai, the radio station turns into Radio Mirchi 98.STREE FM - She's HOT! this week. To add to the fervor, Radio Mirchi has woven programming around women of India, thereby adding lots of fun to the day.
RJs across shows have prepared a special 'all women' playlist for Women's Day. The playlist will include songs sung by top-notch female playback singers, written by noted women lyricists and also those composed by the finest female music composers of Bollywood. Contemporary songs such as 'O-Womaniya' to old classics such as 'Bindiya Chamkegi', peppy songs such as 'Mere Hathon Mein' to soulful songs such as 'Sajna Hai Mujhe' and many more, will make for interesting listening all day long.
Do not be surprised to be greeted by a brand new RJ 'Jeeturaani' on Radio Mirchi's uber popular morning show, 'Hi Mumbai'. This is none other than India's No. 1 RJ Jeeturaaj, who is currently addressing himself by this new name to salute all the women out there, in his own special way. Throughout the week, Jeeturaani is featuring various women achievers from all walks of life on his show and applauding their accomplishments.
To culminate the Women's Day celebrations, Radio Mirchi's IP Team has organized She Rocks, a special music concert at St. Andrews Auditorium, Bandra on Saturday. This will set a stage for women to come together, let their hair loose and enjoy a much deserved me-time. The event will see the music maestro Rekha Bhardwaj dedicating a musical night to women by crooning some of her famous renditions. Radio Mirchi's RJs are giving out exclusive passes to listeners to make their day a memorable one.
Commenting on this special programming, Preeti Nihalani, Cluster Head, Mumbai, Radio Mirchi says, "This Women's Day, we are saluting the spirit of women. Everything we do this week will have a generous dose of womanhood in it. Right from the station name to the playlist, everything will be dedicated to the women of India."
Tags: Bindiya Chamkegi Mere Hathon Mein Radio Mirchi 98.3 FM Sajna Hai Mujhe women of India