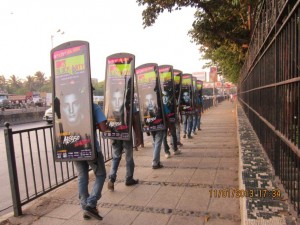 Mumbai: Posterscope India Group has launched the next step in the evolution of its offerings in the out of home domain AMBIENT OOH. This will be India's first dedicated Ambient OOH practice, based on scientific knowledge and best practices.
Building on the premise of the adage, "Tell me and I might forget, show me and I might remember, but engage me and I shall understand", AMBIENT OOH promises to offer brands a very unique OOH offering, be it your target market in coffee shop, roads, offices or simply looking at the sky - you can reach them all using one or more ambient media options.
Haresh Nayak, MD Posterscope India Group says,  "Interestingly, advertising in India today has gone through many changes in techniques & style of promotion. Gone are the day of passive communication, it's all about how your brand engages and interacts with its target audience. Secondly, the changing lifestyle of consumers calls the attention of advertisers to re-study the mediums of brand communication and through Posterscope OCS (Outdoor Consumer Survey) we have seen that Ambient OOH is growing much faster than traditional OOH".
The rapid growth and Improvement in the infrastructure projects is driving growth in the ambient space. Brands today are looking beyond billboards. New improved commercial spaces including malls, multiplexes and office buildings coming up are facilitating audiences to spend significant parts of their day out of home. Advertisers are investing more at Malls & Multiplexes. Further, there have been various new formats that have evolved; smaller format ambient media, transit media, etc., which are increasingly being used to customize and localize a brand's communication needs.
Ambient OOH, through its proprietary tool AMBIENT SCORE maps over 20 channels of ambient environment ( Malls, Multiplexes, Coffee shops, Beauty parlors, Gyms, Spa's, Clubs, Hospitals, Medical stores, corporate parks, fuel stations, restaurants, fast food joints, ice cream parlors, and others.), it further gives consumer demographics, reach and frequency numbers covering more than 25000 touch points reaching out to footfalls of more than 3 million consumers Ambient OOH is by far the most complete and knowledge based ambient agency in India, with international learning's.
Fabian Cowan, Business Head AMBIENT OOH adds, "As the Indian consumers evolve, and there is a far greater need to engage them across platforms and experiences. Integration and innovation across traditional and new media opportunities is the key and at AMBIENT OOH we are well equipped to deliver not just innovations that are out of the box but also engagement and experiences that are well within the box, that have hitherto been ignored.   "
With a team of 20 dedicated members and with offices across Mumbai, Delhi, Bangalore, Chennai, Ahmedabad and Kolkata, Ambient OOH offers clients reach and depth of experience to ensure that your brand gets to your audience.
AMBIENT OOH has already partnered with clients like Nissan, Tourism Australia, L&T, Bose, Samsung, MTV, ETV, Visa, Adidas, BMW, Standard Chartered, Movies Now, Ferrari, Benetton, NDTV Good Times, Skoda Auto, Reebok and more.
Ambient OOH is part of Aegis Media's Posterscope Group in India. The Aegis Media India group comprises Posterscope the global OOH sector leader, Brandscope, Hyperspace (Retail), PSI (Airports), Carat, the world's largest independent media communications specialist, Vizeum, Carat Fresh Integrated (Experiential), Doosra (Creative), Isobar, the global communications agency with digital at its heart and IProspectCommunicate 2, the global leader in search and performance marketing.
Tags: Ambient OOH dedicated Ambient Posterscope Group