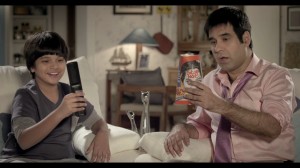 New Delhi : Perfetti Van Melle India (PVMI), the market leader in confectionery category, is expanding portfolio of its snacks category 'Stop Not' with the launch of "Stop Not Stixz" in addition to the existing two variants – Golz and Disks.
Stop Not Stixz is a tasty, crunchy, spicy new snack. It will be available in three flavors – Wow Masala, Pudina Passion and Tomato Tadka. The new range will be available across India in convenient pack sizes of Rs.5, Rs.10 and Rs.20.
This new product launch will be supported by a television campaign. The campaign focuses on establishing the irresistible taste of the product that one gets hooked onto.
The TVC highlights a situation that possibly happens in every household in India, which is the fight over the TV remote. The story has 2 brothers who to get the remote back, distract the father with a packet of Stop Not Stixz. He unknowingly tries the snack but gets hooked onto the taste and finally gives up his remote and the power to watch his favorite programme for a packet of Stop Not Stixz.
Commenting on the launch, Samit Srivastava, Head – Snacks Business, Perfetti Van Melle India, said "It was an interesting way to communicate Stop Not Stixz. The situation is extremely endearing, real-life and something every kid can relate with. We are extremely confident about the new brand and are sure that the new TVC will help generate excitement amongst kids."
Anuraag Khandelwal and Satish deSa, ECDs and Creative Heads, Soho Square, Mumbai, said, "However old we boys get, once dad is in the room, he gets the remote to watch what he pleases. Which has to always be something very very boring. Protesting is futile. We showed youngsters how to turn this power equation on its head. With the addictive power of the new Stop Not's Stixz."
This 35seconds commercial has been created by SoHo Communications, headed by the versatile ECDs and Creative Heads Mr. Anuraag Khandelwal, Satish deSa, directed by Binay Pradhan of Corcoise Films.
Tags: Disks Golz Perfetti Van Melle India Pudina Passion Snacks Portfolio television campaign Tomato Tadka Wow Masala