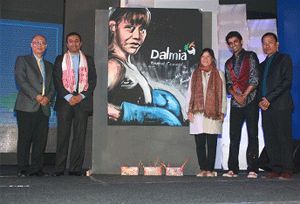 Percept wins the mandate for managing the mega launch event of Dalmia Cement's formal arrival in  North East. Dalmia Cement's acquisition of Calcon and Adhunik Cement in North East India was a landmark event in the history of Dalmia Cement since it made the brand the largest player in the North East region.
The event took place on 12th jan 2013. To bring about sense of leadership, the event was held in a larger-than-life size venue 'Indira Gandhi Athletic Stadium, Sarusajai in Guwahati rather than a regular ballroom.
The launch strategy stemmed from leadership and premier brand positioning that had to be sent across to the dealers to welcome them to Dalmia family. This was thought through right from the invite stage where the recorded welcome AV of Dalmia CEO was sent with invite cards carrying swipe cards. The event witnessed around 750 guests from across the North East. Inorder to break the ice with its new dealers, Drums Berries was entrusted upon this task.Dalmia group's another key communication was innovation which was translated through interactive dance act on the large watchout LED. The brand's various offerings were communicated through Isha Shervani's aerial act and fusion act on the theme of Panch Tatva. The finales act of Isha was on a jam-in with live music by drummers. Vilas Nayak's speed painting was the cue to reveal Dalmia Cement's new brand ambassador, Mary Com who signifies strength and reliability.
Said Anbumani Narsimhan, Head of Marketing, Dalmia Cement , "Big thumbs up" to the Percept team for the mega launch of Dalmia in Guwahati. You  have set a new benchmark which I am sure will be very difficult to surpass in near future. Great Show!! & Keep up the good work team Percept".
Commented Aditya Motwane - COO, PS&E "Congratulations to the BD team for successfully tapping businesses across the country. We are proud to be associated with Dalmia which is a premium brand and a market leader in its segment"
Elaborated Sanjay Shukla – CEO, Percept Activ, "Dalmia Cement is a leader in south India but the challenge was to position it similar in north east India. Considering the quantum of logistics involved in a far off area such as Guwahati, it was quite a task to pull off a show in the given timelines. The creatives and communication too had to be designed considering north-east sensitivities in mind. The team has done a great job and the event was a great success!"
Percept also had to keep in mind the sensitivities of North East India while designing the content and communication. The challenge was to execute an event of this stature in a far off region like Guwahati. The relentless effort from the Team Percept right from the pitching stage to planning to execution and a fantastic coordination between the teams across the length and breadth of the country made this mega launch a huge success.
Tags: Adhunik Cement Advertising advertising agency advertising media advertising rates brand Calcon Dalmia Cement digital marketing digital media courses ET Now Guwahati Indira Gandhi Athletic Stadium media agencies media jobs media production jobs media training courses North East online advertising Percept Said Anbumani Narsimhan Sanjay Shukla Sarusajai