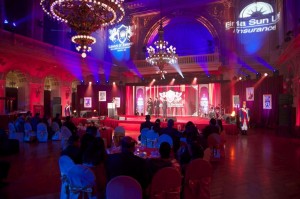 In the breathtaking backdrop of a city with a history of around 1000 years, Percept ICE executed the very first Aditya Birla Financial Services Group CEO's Club annual Convention in the tranquil city of Prague.
This convention played host to only a limited number of dealers who were invited along with their spouses to spend 4 nights and 5 days from October 7, 2021 to October 11, 2021 in Prague at the luxurious Prague Marriott Hotel and enjoyed the scenic beauty and exciting activities the city had to offer.
This pitch was won by Percept ICE because of its exceptional research and in-depth analysis of the city, which allowed the team to come up with themes that could bring alive the Prague Experience.
A thematic welcome evening which allowed the guest to soak in the beauty of Prague was set on a cruise and the evening spoke volumes about Prague, its history and culture. Also the guests were introduced to Prague by a learned citizen and they were entertained by the local dance troupes and some eclectic music. The Zofin Palace was the perfect setting for the Gala Night celebrations which was aptly themed as Royalty keeping in mind the royal past of the country.
The guests were treated as Royalty indeed, right from the welcome where they were ushered in by a band and hosts saluting them; moving on they were in for a "Royal Makeover" and could capture the Royal moments at the unique photo corner where they could seat themselves on thrones and get themselves clicked. An evening filled with grandeur and splendor. The event turnover time was short but the same was executed with precision and within the stipulated budgets.
Nazneen Karimi, Chief Operating Officer- Percept ICE said "This was truly an exhilarating experience for us as agency; we have managed a few international events for Birla Sun Life Insurance earlier but this was different, in terms of scale and more importantly in terms of the TG. The brief was simple "Raise the Bar yet keep it simple", the team put in its best foot forward and contributed towards detailing everything and seeing to it that the experience for the guests would be awe-inspiring. Right from the ideation, designs, logistical management and the eventual execution of the event, everything fell into place with the team's stupendous dedication and focus"
Vishal Dhale Head Sales Rewards & Recognition, BSLI said "The feedback from all the delegates who have attended our ABFSG CEO Club convention, Prague has been highly positive and it has been mentioned as a truly memorable experience for all. I thank you for the minute detailing and meticulous effort taken by you and your team to go that extra mile with a 'never say no' attitude. This has resulted in wonderful and spotless arrangements made for this convention and hence I wish to congratulate you and each member of your team, on setting a new standard of experience for all the delegates from BSLI. I'm sure we all will work harder, not only to maintain this experience level for our delegates but also to surpass it in coming times."
Tags: Aditya Birla Financial Services Percept ICE Prague Marriott Hotel