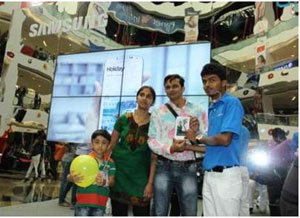 Percept Activ, the brand activation arm of Percept Limited, bagged the onus to conceptualize & execute the on-ground Mall activation for the launch of Samsung Galaxy S4 spanning from May – July 2013.
Samsung GALAXY S4, the much anticipated and the next generation handset that's designed to bring people together and enrich the everyday life, was launched in the Indian Market recently. The handset supports a 5-inch HD super AMOLED touch screen, 13 megapixel rear camera and 2 megapixel front camera and supports 3G networks. With new imaging features like 'Dual Camera' and 'Dual Video Call', users can click pictures and make video calls using both the front and rear cameras simultaneously. Some of the 'gesture control' features include 'Air Gesture' which allows users to change music with a wave of the hand, 'Air View' which lets users hover with their fingers to preview the content of an email or a photograph, and 'Smart Pause' with which one can pause a video by just looking away from the phone.
Samsung wanted to pursue an aggressive marketing strategy to fuel greater customer engagement and create a buzz around the smart-phone in strategic high footfall areas like Malls, CCD and Barista across Mumbai and other cities. In order to highlight the 'Life Companion' feature of Samsung Galaxy 4, Percept Activ took consumer engagement to the next level.
Percept Activ put up a demonstration for an inquiring engagement of the audience by having a technical advisor who would demonstrate the key camera features such as a 12 drama shots, S4's edge over a SLR camera and the effective use of the rear camera to click photographs both sides.
The activity got rolled out in 78 cafes across India and malls in Mumbai. The activity would get extended to Malls in Kolkata, Bhubaneswar and Patna as well.
Commenting on the successful management and execution of the annual conference, Mr.Sanjay Shukla, Chief Executive Officer, Percept Activ said "Through the years we have partnered with Samsung in designing effective on ground activation and mass engagement projects for the slew of innovative product launches as a part of its aggressive marketing agenda. Post the successful execution of Ace Duos, Note 800, Note II and Galaxy Cameras across the length and breadth of the country; it called for yet another innovative yet engaging concept to take the brand story of Samsung S4 to the discerned TG. Our understanding of the brand complemented by our execution expertise Pan India, Samsung relied on our strength as we ensured a ROI driven exercise. The activation kicked off with Mumbai and gradually rolled out to the other cities. As I have always maintained that it is more of engagement planning that makes a brand story successful. We at Percept Activ have been championing this cause with an in-depth understanding of the market, the consumer and the brand, backed by strong concepts and execution strengths across India."
Tags: mall activation Percept Activ Samsung Galaxy S4