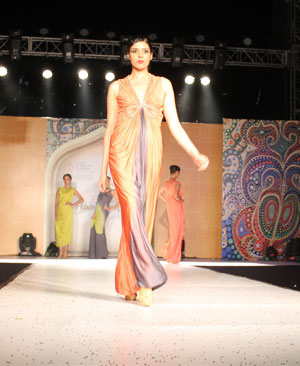 The Indian Handloom industry is one of the most celebrated industries in India and contributes a lot to Indian Tourism.
Tourists flock in to get hold of unique ethnic Indian handloom products which is one of the biggest unique selling points. Percept Activ has grabbed the opportunity as a brand activation partner for Hindtex BSM at Varanasi supported by Ministry of Textiles, Government of India and COHANDS & Eastern U.P. Exporters Association (EUPEA) on September 27, 2013.This fashion show showcased creations on handicrafts by Delhi based designer Rinku Sobti along with Varanasi Silk products by Varanasi based designer Pradeep Anand Singh.
The luxurious fashion show was choreographed by noted choreographer Rashmi Virmani who conceptualized the fashion show segments to represent traditional Indian designs in a contemporary format.
This event was attended by the high ranking officials from the Uttar Pradesh bureaucracy along with other noted dignitaries from the fashion industry, the Hindtex Fashion Show redefined traditional Indian fashion wares, and showcased that conventional fashion is still relevant in the dynamic contemporary fashion atmosphere. It also brought together well known names from the field
Sanjay Shukla, Chief Executive Officer, Percept Activ said, "The Fashion Show with Ministry of Textile started with a very simple objective of creating awareness and reach the targeted group of consumers especially the young and niche market potential for the Handloom & Handicraft products. We have conducted fashion shows in Delhi, Chennai, Hyderabad, Kolkatta, Masoorie and now in Varanasi. During this journey, we have been able to engaged some very famous and prestigious designers and choreographers using Handloom as well as Handicraft as fashionable products and accessories"
Added, Shri Balvinder Kumar, IAS, Development Commissioner (Handlooms), Ministry of Textiles, Govt. of India, "Through this initiative, The Ministry of Textiles aims to showcase the ever-increasing popularity of Indian handicrafts in a new light. Faced with the onslaught of new weaving technologies, Indian handicrafts have commendably managed to hold onto its market positioning which we seek to build upon through this exhibition. The involved fashion shows showcase the intricacies of Indian traditional and contemporary hand weaves, and seeks to increase its exposure in the international market. With our partners being the Eastern U.P. Exporters Association, our endeavour is to take Indian handicrafts into the unexplored markets and increase its market outreach."
Tags: brand activation ethnic Indian handloom products Hindtex BSM Percept Activ Varanasi