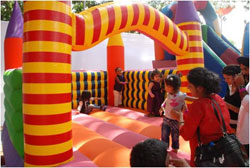 Percept Activ, the brand activation arm of Percept Sports and Entertainment recently celebrated Mothers Day with Cloudnine Hospitals by executing 'Cloudnine Mummamia! 2014',  a festival to celebrate motherhood at Jaymahal lawns in Bangalore on May 11, 2014.
The core idea was to celebrate "mothers' to be" and young mothers giving them a platform to feel special and bring together the family to celebrate motherhood.
The Mothers' Day carnival, was filled with entertainment and included various activities for mothers, fathers and games for children between the age of 0 and 7. The major events were the Talent Hunt called 'Rocking with Mom and the Fashion show named 'Diva to be' which was a fashion show for all moms to be.
At the carnival an attempt was made to create the world's largest mom and kid selfie collection for the Limca Book of World Records. The mothers to be were given a special baby shower which was another integral part of the carnival.
Challenge for the Agency was to be able to bring the right target audience and give them a memorable time with something for the whole family to do, especially since the children participating ranged from infants to 7 years only.
Executing a well thought out and planned pre eventing the Mummamia 2014 was well received by Bengaluru with over 380 families walking into and spending a whole day at this fun event .
Cloudnine recently got 100 Crore funding from Sequoia Capital and is opening 5 more hospitals across India and are keen to make Mummamia! An annual property across all cities from next year.
The execution was highly appreciated by the client and added another milestone for Percept.
Commenting on the success of the event, Sanjay Shukla, Chief Executive Officer, Percept Sports & Entertainment said,  "Percept Activ rose up to the challenge and ensured a successful event appreciated both by the client and all who attended the event. The synergy with which our teams from Mumbai and Bengaluru worked with the client led to the success of this event and we look at partnering with Cloudnine to take this property further across India"
Tags: brand activation Cloudnine Mummamia Carnival Mothers Day Percept Activ Percept Sports and Entertainment