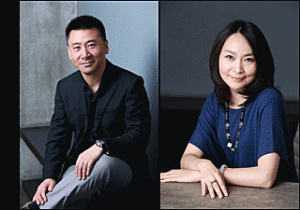 Beijing : OgilvyOne China has announced the promotions of two senior officers. Daniel Tao has been promoted to Managing Director of OgilvyOne, Beijing to lead the second largest OgilvyOne office in Asia-Pacific and Claudia Ma has been named the Vice President of Consulting for OgilvyOne, China. Both appointments are effective immediately.
Daniel Tao Promoted to Managing Director of OgilvyOne, Beijing
As OgilvyOne Beijing's General Manager Tao has shown great passion and talent in developing new business leads, cultivating client relationships and improving operational efficiency. As Managing Director Tao will oversee the Beijing office's clients, staff and operations while continuing to strengthen its core competencies in digital, mobile and customer relationship management (CRM).
Claudia Ma Named Vice President of Consulting, OgilvyOne China
Formerly as OgilvyOne Beijing's Partner of Consulting, Ma has been a champion of big data – extracting detailed consumer information and converting them into strategic client solutions. Ma's dedication to mining data to grow client businesses will continue to be a key focus in her new role as OgilvyOne's national Vice President of Consulting. Having built a solid team of consultants she will grow the discipline's consulting offerings in market entry strategy, digital ecosystem strategy, CRM strategy, data monitoring and analysis, usability research and technology consultancy.
Ogilvy & Mather Greater China CEO Shenan Chuang, said, "Our founder David Ogilvy described leaders as those who possess high standards of personal ethics, guts under pressure, resilience in defeat, and brilliant brains. They also need to take risks, work hard, make tough decisions and inspire enthusiasm. Daniel and Claudia certainly fit the bill. Daniel's sharp business sense and natural charisma have earned the loyalty of clients and team members, and Claudia's expertise in developing smarter strategies has been a huge asset to clients as well. Their promotions are well-deserved and I'm delighted to see what they'll achieve in their new roles."
Tags: new business leads OgilvyOne China