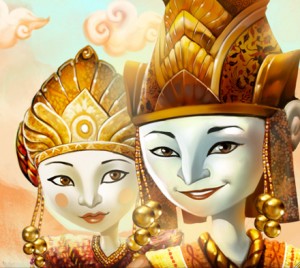 Singapore: The Google 'Ramayana Chrome' Experiment created by OgilvyOne  for Indonesia won the FWA People's Choice Award 2012.
The well-known legend was re-told via a Chrome Experiment, integrating Chrome features and Google services like GTalk, Products, Weather and Maps through various scenes in the traditional story. The interactive experience also incorporated WebGL and HTML5 to demonstrate that Chrome is capable of more than just speed - it's also powerful in security and stability.
The FWA is an industry recognized recognition program for cutting edge digital work.
Rob Ford, FWA Founder commented on Ramayana: "Without a doubt, Google is at the forefront of digital creativity. This year, alone, we have seen many Google projects pioneering through the digital landscape. Seeing the People's Choice Award for 2012 go to Google Ramayana was a delight to see, proving how the public appreciated the amazing creativity this experience brought to the masses.
The design and development teams should be hugely commended for bringing together such an incredible project and one that is flawless in its execution as well as an absolute delight to behold. FWA has and will always be about showcasing the most pioneering and creative digital work and Google Ramayana is the epitome of what FWA stands for."
"Chrome Experiments take advantage of modern web technologies like HTML5 and WebGL, to create immersive, interactive experiences that take you to amazing places. So far, over 500 experiments have been made and submitted by talented artists, programmers and partners from around the world. This interactive re-imagining of the Ramayana epic, highlights the power of the modern web to preserve and promote local culture," Consumer Marketing, Google.
"One of the greatest achievements in the creative industry is to be recognized by your peers. With this award, we had the privilege of enjoying this experience. Great teamwork, great clients and great partners like Fi - that's what made the Ramayana Chrome Experiment, magic," explained Melvyn Lim, Executive Creative Director, OgilvyOne Singapore.
"It was fascinating to see all the different passions come together from illustrators, designers, HTML5 developers, and even sound guys working simultaneously and witness each Ramayana chapter come to life like a puzzle being completed. It almost felt magical because every new piece would always make for a perfect fit to the larger project," said Anton Repponen, Global Creative Director, Fi.
Credits :
Chief Creative Officer : Steve Back
Executive Creative Director : Melvyn Lim
Art Director : Xander Lee
Copywriter : Esther Tan
Designer : Fantasy Interactive, Timothy Su
Developer: Fantasy Interactive
Project Manager : Zayed Talib
Business Director : Pawan Bahuguna
Account Service : Stephanie Loo, Lu Shulin
Tags: Chrome FWA Founder FWA People's Choice Award 2012 Google services GTalk Indonesia Maps OgilvyOne Products Ramayana Ramayana Chrome Rob Ford The Google Weather WebGL