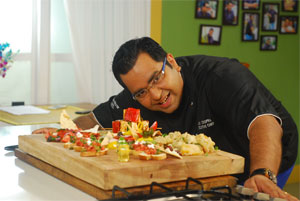 NDTV Good Times has announced the launch of  Veggistan, a fresh new cookery show, featuring mouth-watering recipes to satiate your taste buds and hunger pangs. We hope to leave you amazed at the scope and range of glorious vegetarian food that is there to be explored, on this 100% vegetarian journey across 52 episodes of Veggistan by Bengaluru based production house- Ttweetyy Production, owned by Gopal Kulkarni.
Hosted by Chef Ajay Chopra, the show seeks to evoke the die-hard foodie and also the home grown cook to prepare a variety of vegetarian "easy-to-cook-at-home" dishes.  "Veggistan" is a theme based show wherein the themes will highlight the lifestyle of the youth in India. The show will focus on themes such as Quick Veg Bites, Mango Special, Independence Day Special, Monsoon Special etc.
In the series, Chef Ajay will showcase an all vegetarian menu with dishes that are not so common yet easy-to-prepare, while being inventive and exciting. The show invites "home cooks" from varied fields to showcase their immense passion and love for cooking. Each episode will contain numerous handy tips; focusing on cooking, food and health.
According to Arati Singh, Channel Head, NDTV Good Times, "The brand new show is a perfect combination of uncomplicated and practical cooking with Chef Ajay Chopra inviting the youth into his kitchen. We hope it encourages more youngsters and food lovers to indulge in easy and delicious cooking".
Watch Chef Ajay cook some lip smacking vegetarian dishes that are for a variety of occasions – a kitty party, your lunch box, a bachelor party, a game night and many more such every day themes. All this with the help of very simple, easily available ingredients and loads Of FUN.
So Keep Watching VEGGISTAN where Green Gets Its Glory. 'Veggistan' premieres on 26th July, every Saturday at 7 PM only on NDTV Good Times!
Tags: Chef Ajay Chopra cookery show NDTV Good Times Veggistan