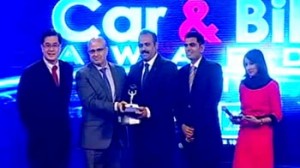 New Delhi :The coveted NDTV Car & Bike Awards are back with their 9th edition, scheduled to be held at the Taj Palace Hotel, New Delhi on Monday, January 13, 2014. Presented by Mobil1, the Awards will once again honour the best cars and bikes in the country's vibrant automobile sector and give recognition to the minds and the efforts behind their success.
The NDTV Car & Bike Awards have emerged as the most credible automobile industry awards that have created a niche for themselves in the sector and among automobile aficionados. The 9th edition will felicitate 35 most deserving winners across various categories. A new category has been introduced, the 'CNB Visioneer Award' that will acknowledge outstanding contribution to the Indian Automobile Industry.
Announcing the 9th edition of the awards, Siddharth Vinayak Patankar, Editor -Auto & Head Automobile Programming, NDTV said, "It has been quite a journey and I am very proud that we have now completed 10 years of CNB on the NDTV Network. The fact that the CNB awards are now recognised as most credible across the automobile industry is a matter of great pride for us at NDTV. We are very happy with the anticipation around this year's edition, and I too cannot wait to find out who will be going home with the coveted trophies on awards night."
He further added, "The 9th edition of our own independent and trusted automobile awards will once again establish a set of credible winners - chosen by an eminent jury comprising the best names in the business. I am equally excited as always by the annual Viewers' Choice category. The hundreds of thousands of votes as always represent our most valued viewers and what they believe are the best products of the year."
Car and Two Wheeler of the Year awards will take the top honours while the CNB Viewers' Choice Awards gives viewers the exciting opportunity to vote for their favourite car and bike nominees and stand a chance to take the year's hottest wheels home. The CNB Viewers' Choice category has already received over twenty thousand votes through online and mobile messages and the numbers are growing every hour.
To ensure a fool proof and fair selection process, each Jury member assesses and awards each nominee in complete isolation to other jurors. Each car and bike nominated is driven, evaluated and tested by the Jury along with a detailed research on each nominee's specifications; its market performance and its immediate competition also being provided to them. Tabulators at Ernst and Young monitor the entire process.
An eminent Jury consisting of an expert panel of auto aficionados will select the winners of this year's awards. These include Adil Jal Darukhanawala, Editor in Chief, Zeegnation; Aditya Patel, one of India's brightest young racers; Dilip Chhabria, an eminent and internationally acclaimed automobile designer; Dhruv Behl, Founder and Managing Editor of AutoX; Gul Panag, known as much for being an auto enthusiast and biker, as her silver-screen avatar; Jens Meiners, based in Germany and in New York, Jens is one of the foremost international motor journalists; Kamlesh Patel, Former Rallyist and automobile enthusiast; Karun Chandhok, India's youngest Formula One driver; Kushan Mitra, Managing Editor, Digital and New Projects of The Pioneer newspaper; Dr V Sumantran, currently the Non-Executive Vice Chairman at Ashok Leyland and Siddharth Vinayak Patankar; Editor - Auto & Head Automobile Programming, NDTV.
The Awards also recognise Marketing, Advertising and Communication efforts of the players which contribute to any product's success, with the CNB-AAA Awards. The categories in this include Best PR & Communications Team, Best Integrated Campaign, Best TV Commercial Two Wheeler & Four Wheeler categories and Brand Ambassador of the Year.
The CNB AAA Awards Jury includes Raj Kamle, Managing Partner, StrawberryFrog, Vinod G Nair, Managing Director & Chief Executive Officer, Clea PR, Sam Balsara, CMD, Madison Communications, Shruti Verma Singh, Consulting Editor, NDTV and Siddharth Vinayak Patankar; Editor - Auto & Head Automobile Programming, NDTV.
Tags: automobile sector best cars and bikes NDTV Car & Bike Awards