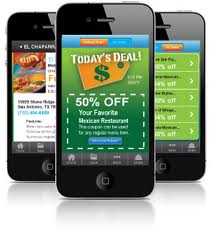 As consumers increasingly turn to their smartphones, tablets and PCs to shop online, they are using digital coupons to find new ways to stretch their dollars. The US recession helped boost the popularity of digital coupons in recent years. Yet even as the economy recuperates, digital couponing remains a widespread activity among shoppers,reports eMarketer.
While the majority of coupon users continue to redeem promotions found in print publications and circulars, eMarketer estimates that 92.5 million people in the US redeemed a digital coupon in 2012. By 2014, US adult digital coupon users will surpass 100 million. Growth will come in at 4.6% this year and will remain slow but steady through 2014. The number of users who access coupons via desktop computers is nearing maturity, but mobile coupon users—especially those who redeem via smartphones—are helping to boost overall growth.
Mobile coupon usage is still catching on. Just 16.3% of the country's mobile phone users redeemed a mobile coupon in the US in 2012. But adoption of this money-saving activity is expected to expand substantially in the next few years. The number of US mobile coupon users will rise from 12.3 million in 2010 to 53.2 million in 2014, driven by the rapid adoption of smartphones. By 2014, one in four mobile phone users will redeem a coupon via a mobile device.
Based on new data, eMarketer has revised its 2012 projection for smartphone coupon users upward to 29.5 million from its previous forecast of 28 million. eMarketer estimates the number of smartphone coupon users last year rose by 66%, following a growth rate of more than 100% in both 2010 and 2011.
Smartphones let users access deals on the go and have the capability to serve coupons that are highly relevant based on location, behavior and timeliness. Those who use these devices have an expanding range of options for delivery of mobile coupons, including SMS promotions, retail and manufacturer apps, coupon-specific apps, email offers and mobile barcodes. Additionally, daily deal sites and apps offering time-sensitive deals have attracted a new audience who has never before used mobile coupons.
Source:eMarketer
Tags: adult digital coupon circulars coupon-specific apps d manufacturer apps daily deal sites digital coupon digital couponing email offers eMarketer mobile barcodes mobile coupons new audience PC print publications redeem promotions retail shop online shoppers smartphones SMS promotions tablets US US recession