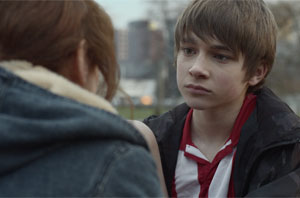 New Delhi: McDonald's on Friday launched the next part of their Favourites brand campaign with a TV ad airing in both 60 second and 40 second formats.
Created by Leo Burnett, the ad tells the story of a single Mum who makes the tough decision of asking her boyfriend, Dave, to move in with her and her children. Her son is reluctant, and reacts indifferently to Dave's heartfelt attempts at  establishing a relationship. That is, until a chance remark, and a trip to McDonald's, reveal they have more in common than they might otherwise think. Under the banner of 'We all have McDonald's in common', the ad celebrates how  a diverse range of people can find common ground in a shared love of McDonald's.
The TVC was created by Phillip Meyler and Darren Keff, the creative director was Justin Tindall. Vince Squibb of Gorgeous Enterprises directed the ad.
The work is supported by a national outdoor campaign, which brings to life insights around the familiar McDonald's products which people love: the Big Mac, the Milkshake, the Fries, and Chicken McNuggets. The outdoor campaign was led by Justin Tindall as Creative Director, and Lance Crozier, the Head of Art. The food photography was by Jason Lowe.
TV Credits:
Client McDonald's
Creative agency Leo Burnett
Copywriter Phillip Meyler, Darren Keff
Art director Phillip Meyler, Darren Keff
Creative Director Justin Tindall
Media agency OMD

Planner (media agency) Grace Cowey
Production Company Gorgeous Enterprises
Director Vince Squibb
Editor Paul Watts/The Quarry
Post-production Moving Picture Company (MPC) (Mark Stannard)
Audio post-production Grand Central (Munzi Thind)
Print Credits:
Creative Director  Justin Tindall
Head of Art  Lance Crozier
Photographer  Jason Lowe
Exposure:
National TV (60" and 40"), national OOH.
Tags: advertise site Advertising advertising agency advertising media advertising rates brand campaign campaign company advertising digital marketing digital media courses free advertising google advertise ideas internet advertising Leo Burnett McDonald's media agencies media jobs media production jobs media training courses online advertising TV ad tv advertisements