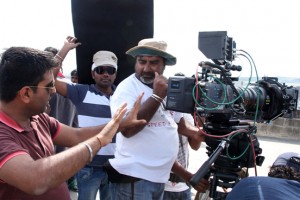 Mauritius: The Mauritius Film Rebate Scheme was officially launched at a gala event by the Vice Prime Minister and Minister of Finance & Economic Development, Honourable Xavier-Luc Duval in the presence of Honourable Mookhesswur Choonee, Minister of Arts and Culture, and Bollywood Actor, Jackie Shroff. Some 250 professionals including directors, producers, filmmakers, artists and representatives of production houses, modelling agencies and training schools attended the launch.
In his address, the Vice-Prime Minister and Minister of Finance and Economic Development, the architect of the Rebate Scheme, highlighted the size and importance of the film industry and its business potential for Mauritius.
The industry, he stated, is expected to generate some MUR 500 million in 2014 while it is estimated that it will bring about MUR 1 billion annually in foreign exchange.
In its endeavour to develop new sectors of activity within the creative arts industry, the Government of Mauritius, through the Board of Investment, elaborated a framework to attract film shooting and post-production activities in Mauritius. This was implemented in the wake of an announcement in the 2012 National Budget.
The Industry is seen as a serious and viable addition to the economy. The Film Rebate Scheme allows for a 30% refund on all the Qualifying Production Expenditures (QPPE) incurred by film producers in respect of their projects in Mauritius. This scheme puts Mauritius at-par with other destinations like Malaysia and Abu-Dhabi which offer a 30% rebate.
The Vice Prime Minister stated that the Government will intensify the marketing of the scheme through the Board of Investment. The industry is expected to generate employment for SMEs, designers, artists, hoteliers, with significant beneficial spill over effects on other sectors like tourism, trade, travel, transport and retail.
Furthermore, the industry will provide great exposure and visibility to the Mauritian tourism industry in various source markets such as India, China and Europe. The Board of Investment has recorded an increasing number of potential interests from local producers as well as production houses from China, South Africa and India. So far, expressions of interest have been received mostly by Indian producers.
Honourable Mookhesswur Choonee, Minister of Arts and Culture, emphasized the strong relationship and special sense of belonging and brotherhood between India and Mauritius.
The country has nurtured this special bond over decades. Minister Choonee stressed the government's vision to develop the film industry as another pillar of the economy.
Special guest, Bollywood Actor, Jackie Shroff, firmly believes that Mauritius should start producing movies. The actor underlined the importance of having a specialised school offering courses on script-writing and editing as well as crash courses on film-making.
He was most laudatory of Mauritius, saying that he was overwhelmed by the hospitality of Mauritians. He commended VPM Duval's initiative for the development and promotion of the new film industry.
Tags: Finance Mauritius Film Rebate Scheme