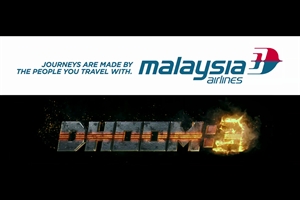 Malaysia Airlines, the national carrier of Malaysia, is proud to be the associate partner for the release of the much anticipated action-packed Bollywood blockbuster, 'DHOOM:3' staring Aamir Khan and a star-studded cast.
Double the excitement by participating in the fun 'Machao Dhoom with Malaysia Airlines' contest.Famous for its suave villains and intrinsic storyline, the 'Dhoom' series continues with more action, more roaring and daring bikes stunt, cupid thieves and foot-tapping music, to make for an exciting Christmas at the movies.
According to Malaysia Airlines' Azahar Hamid, Regional Senior Vice President, South Asia & Middle East, "Malaysia Airlines is excited to be part of the much awaited 'DHOOM:3' release. Bollywood is great at taking the viewers' imagination to destinations around the world. With Malaysia Airlines, we can make that journey happen."
Ashish Patil, Business & Creative Head, Vice President [Y-Films, Brand Partnerships, Talent] stated, "Dhoom:3 is a film that will have a huge play globally. So, it was a great idea to partner an international airline like Malaysia Airlines who also appeal to a large global audience. We are delighted to be on this journey with Malaysia Airlines and look forward to creating some Dhoom while we're at it!"
Malaysia Airlines recently embarked on an extensive brand campaign themed along 'Journeys are made by the people you travel with'.
Flying from 6 cities in India to its hub in Kuala Lumpur, Malaysia Airlines connects to over 60 destinations within its own network, and covers 880 destinations in more than 150 countries with its members of oneworld.
Tags: Dhoom:3 Malaysia Airlines