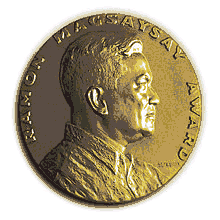 Youth writers now have only two weeks to submit their entries to the Ramon Magsaysay Youth Essay Competition (RMYEC), which closes on June 30, 2014.
Organized by the Ramon Magsaysay Award Foundation, RMYEC is open to all Filipino youth age 15 to 24. The theme is "My Favorite Ramon Magsaysay Awardee: Servant Leadership Qualities That Inspire Me". Those interested to join the competition must write an essay inspired by one of the 301 Magsaysay laureates. It must focus on the personal reflections of the young writer about a Magsaysay awardee of his/her choice, and the specific leadership qualities reflected in the chosen laureate's life and work which are most personally inspiring.
The essay-writing competition is part of the Foundation's efforts to inspire the youth with living Asian heroes of change, and to encourage them to demonstrate the same kind of servant leadership manifested by President Ramon Magsaysay and the Magsaysay laureates.
The RMYEC has two categories-Level 1 for youth between 15 and 18 years old, and Level 2 for youth between 19 and 24 years old.
All essays submitted for the competition must be original, unpublished, written in English, and between 500-800 words in length. Work already published on any medium (including online magazines, blogs, etc.) may not be entered in the RMYEC. Essays which have won in previous contests may also not be entered.
Winners for each competition level will be announced at an appropriate awarding ceremony; they will also receive IT prizes (laptops, smartphones, and tablets) and have the special privilege of interacting with this year's Ramon Magsaysay Awardees.
For further clarification, please contact Ms. Kiel Fernandez, RMAF Advocacy Officer, at 521-3166 to 75 loc. 189, or email inquiries to rmyec@rmaf.or.ph.
Tags: blogs online magazines Ramon Magsaysay Award Foundation