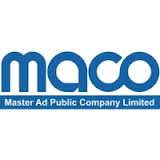 Bangkok: Master Ad Public Company Limited, or MACO, Thailand's 'Leader in Creative & Innovative OHM Solutions Provider' has officially entered the foreign OHM advertising business, signing an exclusive contract with TDI International India, India's major OHM solutions provider, under which it is licensed to market over 1,000 sq.m. of advertising space at nine Indian international airports.
The deal has been struck as part of the company's efforts to cater to the demand of Thai tourism, service and consumables businesses for OHM advertising exposure to increase awareness of their brands in the Indian market. The project is expected to start generating revenue by Q2/2014.
Mr. Noppadon Tansalarak, Chief Executive Officer of MACO, revealed that MACO has entered into an exclusive contract with TDI International India P Limited, India's leader and pioneer in out-of-home, or OHM, advertising, by which it is granted an exclusive licence to market in Thailand more than 1,000 sq.m. of advertising space, representing an annual advertising revenue of THB 262 million, in nine major international airports in the Indian cities of Chennai, Kolkata, Calicut, Cochin, Trivandrum, Pune, Ahmedabad, Tirupai and Goa.
The partnership will help strengthen MACO's marketing and management of its OHM products. The company will offer price packages for different advertising locations to Thai product owners who seek to employ OHM advertising to raise brand awareness among their target customers in India.
"The signing of the contract, under which MACO is appointed exclusive licensee in Thailand to market advertising space at the nine Indian airports, reflects our strength in the OHM market. We will offer reasonable packages to the service, tourism and consumables businesses of Thai brands, which will be potential interest to buyers of airport advertising space. We expect this project to begin generating revenue by the second quarter of year 2014," he said.
Tags: advertising space Creative & Innovative OHM Solutions Provider Indian international airports MACO Master Ad Public Company Limited OHM advertising business TDI International India Thailand