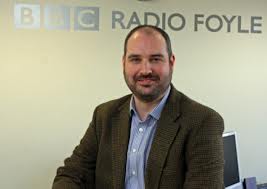 BBC Northern Ireland has appointed Larry Deeney as the new editor for BBC Radio Foyle.
He is responsible for shaping the development of BBC Radio Foyle's local radio and online services and strengthening its role as a production base in the North West. He takes over during the landmark year, Derry~Londonderry City of Culture 2013.
Larry has worked at BBC Radio Foyle for almost a decade as a Senior Broadcast Journalist and, more recently, as UK City of Culture Co-ordinator for BBC Northern Ireland. Prior to this, he was a North West correspondent for the Belfast Telegraph.
Speaking of his appointment Larry said: "I'm delighted to be taking over as Editor during what is arguably the biggest year in the station's history. For about a year now, I've been focused on helping the BBC to get ready for Derry~Londonderry 2013. It's going to be particularly special for me to lead the station during the celebrations and to serve local listeners in the future."
Fergus Keeling, Head of Radio, BBC Northern Ireland, said: "Larry takes over at an important time for Foyle. He brings strong journalistic and editorial skills to the role and a deep commitment to BBC audiences in the North West."
Peter Johnston, Director, BBC Northern Ireland, also welcomed the appointment: "Larry has worked tirelessly in his role as UK City of Culture Co-ordinator for BBC NI. He has been passionate about how the BBC will cover this important year and has been instrumental in co-ordinating our local and network approach. This sets him up very well for the challenges ahead. I wish him the very best in his new role."
Tags: BBC Radio Foyle Corporate Larry Deeney Northern Ireland