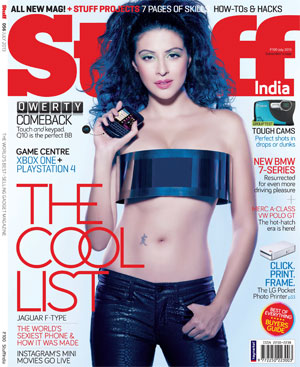 New Delhi :Stuff India, the country's ultimate guide to gadgets and technology has model, actress and TV Presenter, Karishma Kotak gracing the cover of its July 2013 issue.
Karishma will be seen in the Cover Story, posing with some of the coolest products you can get your hands on currently.
Speaking on the core contents of this issue, Editor, Nishant Padhiar, says, "The July 2013 issue of Stuff features our annual 'Cool List' which is a curation of the classiest and coolest gadgets that are currently on sale in India and that makes up for our big Cover Story. We are also excited about the all-new design of Stuff that should make it even easier to read and fun at the same time."
Having recently hosted IPL-6 and with a Bollywood release around the corner, Karishma Kotak is in the news as one of the most promising newcomers around. With Stuff's profile of the absolute latest, she fits in perfectly into the mould. The issue will hit stands on Wednesday, 26th June 2013.
Tags: coolest products Karishma Kotak Stuff India ultimate guide to gadgets and technology