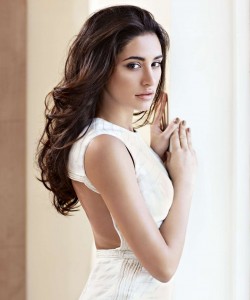 New Delhi: KEROVIT by Kajaria Ceramics Limited has roped in Bollywood diva of Rockstar and Madras Cafe fame, Ms. Nargis Fakhri, as its Brand Ambassador.
The brand association will be for the next two years. KEROVIT has been pegged as a fashionable and elegantly in-vogue, white-ware ceramic sanitary brand which boasts an exhaustive range of innovative designs coupled with international quality materials – all at affordable price points.
KEROVIT's product range comprises of Wash Basins, WCs and touch free dual flush concealed cisterns (flush tanks) complemented by an enviable range of designer control panels to choose from.
Speaking on the occasion, Rishi Kajaria (JMD), Kajaria Ceramics Limited, commented, "KEROVIT is synonymous with a blend of simply elegant aesthetics, enduring style and subtle luxury. Our association with the young Bollywood thespian, Nargis Fakhri is an apt extension of the brand's core identity.
Nargis has emerged as a promising new hallmark of raw talent, sophistication, élan and affability, which resonates perfection in terms of a brand fit for Kerovit. The fact that she is a seamless blend of both western and Indian cultures, also enhances the brand connect because Kerovit represents international appeal. Kerovit's product portfolio is designed to cater to the aspirations of our discerning consumers by providing them with stylish, classic, innovative yet economical bath solutions."
"Kajaria has always been on the forefront of innovation, trust and customer satisfaction. It has outperformed the market by winning the "Superbrand" award seven times in a row, a first in the industry. KEROVIT is a logical extension to the promptness and speed with which we cater to the continuous and ever evolving consumer trends and surpass their expectations." he added.
KEROVIT products are available in all authorized Kajaria Ceramics Limited dealerships, at prices starting from INR 1,500.
Tags: brand ambassador Kajaria Ceramics KEROVIT brand Nargis Fakhri