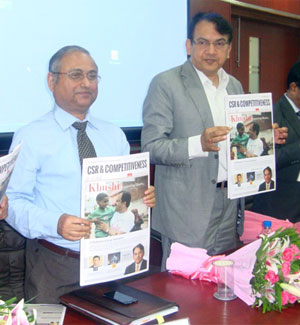 New Delhi : INDIACSR Group  has announced the launch of its magazine "CSR & Competitiveness" to provide a knowledge interface between business and society.
The magazine will update its readers on various topics through its cover story, featured articles and bring forth the emerging trends in this field. The inclusion of FAQs and articles is a step in the direction to make readers aware of the current development and practices.
"The aim of the magazine is to promote the latest developments, quality articles and innovative content. We would explore the concept of competitiveness in relation to CSR & Sustainability. Industry experts, practitioners, professionals and researchers shall get a platform to share their experiences, findings on generating competitive advantage through stakeholder engagement. Case studies shall be published elaborating the contribution of CSR to short term benefits as well as to long term competitiveness in the corporate world," Rusen Kumar ,Director- INDIACSR, Editor- CSR & Competitiveness magazine said.
"With the fast growing community of CSR professionals & researchers in the country, there is a growing demand for knowledge in CSR especially in the developing economies like India. INDIACSR a front runner in the genre of CSR has been receiving request from different quarters for the print publication in the form of a monthly magazine. INDIACSR has met this demand with the launch of "CSR & Competitiveness". With the growing interest of civil society in CSR and motivation by corporates, we believe that the area  will attract attention of government, NGOs, corporates and stakeholders", he added.
Tags: CSR & Competitiveness INDIACSR Group monthly magazine