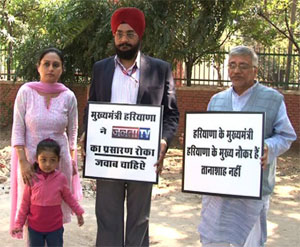 New Delhi: Running a television channel,news channel in particular is a herculean task in India. One can own a tv channel, can produce programmes but the success depends on two communities. They are politicians and cable operators.
The cable operators do not run channels for the viewers but for themselves. Lacs and even crore of rupees are charged for airing channels in India by analog streaming providers ( cable operators). In common man's language this is type of ransom ( black money) charged for feeding legal tv channels.
Politicians or the lawmakers are a step ahead. They issue verbal gag orders to strangulate any television or newspaper brand. There are dozens of examples when the news channels were blocked by the politicians as their content did not suit them or was against them or their party.
Zee Punjabi ( regional news and entertainment news channel owned by  Zee Entertainment Enterprises Ltd) remained blocked for more than a year in major pockets of  Punjab which were served by a cable network owned by a leading politician. No analog signal was available for a long time as the politician had blocked the channel . Other regional channels like Day and Night News which did not want to be the mouthpiece of the government were also blocked . They have survived only by airing signals on digital networks.
The newest victim of  'gag orders' is Janta TV which has been blocked in whole Haryana . The promoters were compelled to protest against the illegal blockage outside Prime Minister, Manmohan Singh's official residence . The channel used to air public anger against government which was not acceptable to the politicians. The channel was allegedly blocked by issuing verbal gag orders to the cable operators.
Some years ago leading Hindi news channel Aaj Tak was also blocked in parts of Haryana at the behest of  corrupt politicians. Not only the television, print media brands also faced closures as the state governments stopped issuing advertisements to those who criticised the governments or refused to do public relationing . Tehelka is the biggest example how the then NDA government 'strangulated' and harassed its investors .
Is the media really free in India ? No it is not. One cannot run a tv channel or a newspaper without money .Those getting government advertisements hesitate to print anti government stories as doing so will result in  revenue loss.
Social media , as it is still beyond the control of governments has emerged as strongest media unaffected by the greedy politicians . While digitization is answer to stop the leakage of  revenues ( to control cable operators) , satellite tv connections will be a big blow to the illegal gag orders issued by the state governments of the politicians .
Photo courtesy: Bhadas4Media
Tags: cable operators do not run channels Day and Night News rupees are charged for airing channels strangulate any television or newspaper brand verbal gag orders Zee Punjabi remained blocked