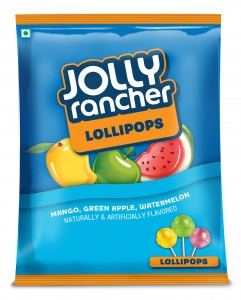 Mumbai: Hershey India Private Ltd., a wholly-owned subsidiary of The Hershey Company (NYSE: HSY),has announced it will bring the iconic North American sweets brand, Jolly Rancher, to India, underscoring the importance and strength of the growing Indian confectionery market.
India is the first international market for the Jolly Rancher brand outside of North America in the brand's 65-year history.
The Jolly Rancher brand is known for a unique combination of sweet and tart fruity flavours that deliver a never before taste experience to the consumer. Jolly Rancher Lollipops will be the first Jolly Rancher candy introduced in India. The lollipops offer a long lasting fruit-like taste experience that is distinct from the typical lollipop currently available in India. The lollipops will come in three flavours: Green Apple, Watermelon and Mango.  Mango was developed specifically for the India market.  The three flavours were tested with Indian consumers who gave them high scores for appeal and delivering uniquely bold, fruity flavours.
"The Jolly Rancher brand is a perfect line of products for sweets-loving consumers in India," said Atul Razdan, General Manager, Marketing, Sweets and Refreshments, for Hershey India.  "We've tailored our new Jolly Rancher products for India to appeal, specifically, to local palates with bold, fruity flavours that are unlike any other candy available in the market."
Priced at Rs. 5 /- in India, Jolly Rancher Lollipops are immediately available in select outlets in metropolitan cities.  The company is manufacturing the product in its Chittoor plant in India.
The launch of Jolly Rancher brand in India will contribute to The Hershey Company's focus on global growth. The Indian confectionery market is one of the fastest-growing markets in the world with a strong double-digit annual compound growth rate of about 18 percent.
Jolly Rancher is one of five brands that Hershey has identified as "global brands" that will drive the company's worldwide growth over the next several years.  It is also the first global brand from North America to launch in India. The international expansion of Jolly Rancher in India and other iconic Hershey brands around the world is an integral part of Hershey's global growth vision to achieve $10 billion in annual revenue by 2017.
Tags: Hershey India Private LtdThe Hershey Company iconic North American sweets brand Jolly Rancher