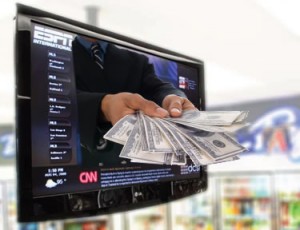 Worldwide, digital ad spending passed the $100-billion mark for the first time last year, according to new eMarketer estimates, and will increase by a further 15.1% in 2013 to $118.4 billion.
That will put worldwide digital ad spending levels—including online and mobile advertising spending, other than messaging-based formats—at 21.7% of the total spent on ads in all media this year, and on track to account for more than one-quarter of all ad spending by 2016.
North America accounts for the greatest share of all digital ad spending, at 39% as of the end of 2012. As emerging markets in Asia-Pacific and Latin America up spending, however, North America and second-place Western Europe will lose share slightly throughout the forecast period. By 2016, 36.7% of spending will come from North America, and 23.7% from Western Europe. By the same year, Asia-Pacific will contribute 29.8% of all digital ad spend in the world.
The fastest growth in spending will come from the emerging markets of Indonesia, India and Mexico—though that growth is coming from a relatively small base of spending.
As a percent of total ad spending, Western Europe's digital spending is slightly ahead of North America's, at 24.9% this year vs. 24.6%. Asia-Pacific is not far behind, though in the world's lagging region, the Middle East and Africa, just 7% of all ad dollars go to digital media. eMarketer expects this percentage to nearly double by 2016, but the region will still be far behind the near-30% of ad spending devoted to digital in Western Europe and North America.
North America and Western Europe also boast the highest regional levels of digital ad spending per internet user, at $168 and $112 this year, respectively.
eMarketer forms its estimates of digital ad spending around the world based on the analysis of various elements related to the ad spending market, including macro-level economic conditions, historical trends of the advertising market, estimates from other research firms, and consumer internet usage trends.
Source:eMarketer
Tags: 2015 ad dollars ad spending Africa Asia Pacific digital digital ad spending digital media double digits eMarketer Growth Latin America media Middle East mobile advertising spending North America online Western Europe Worldwide