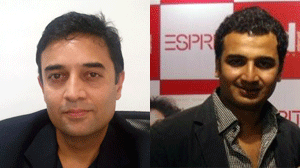 Mumbai : Global Sports Entertainment And Media Solutions Pvt Ltd (GSEAMS) has announced a three Movie Marketing deal with Viacom Motion Pictures. GSEAMS has already done the Marketing alliance of the first regional movie of Viacom "Zapatlela 2 -3D"  and will be involved in handling the marketing for Viacom Motion Pictures 2 Regional Movies "72 Miles – Ek Pravas" and "Kumari Gangubai Non Matric".
Clear domain understanding and a passion to market movies through new age channels and mediums are the reasons why Arjun and Kartik chose these projects as the first under their movie marketing division.
Arjun Singgh Baran & Kartik Nishandar who had just turned Arjun said 'We have been quite fortunate to have been involved with the promotion of Viacom Motion pictures 1st the success of the movie we have been thankful to the Viacom team specially Jayesh Muzumdar , Business Head ,Viacom Regional Movie and  Neeraj Joshi , Marketing Head ,Viacom Regional Movies  to have extended the deal to 2 more Regional movies to be Marketed, We look forward to working with the brand and creating great synergies in the future ".
Commenting on the association Kartik further added" GSEAMS as a team couldn't have asked for a better association to start its Movie Marketing division & having been involved in promoting one of the biggest commercially successful Marathi Regional movie Zapatlea 2- 3D. We look forward to the next "Twinkle Khanna, Ashwini Yardi & Viacom's 72 Miles" & "Gangubai Non Matric".Thanks to Jayesh and team Zapatlela 2 has given us a benchmark to move to the next level & do better with GSEAMS foray into Bollywood movies. We have got great response on our first movie marketing involvement with Bajatey Raho but would like to up our benchmark with one of the most awaited movie of the year to
be released in November which we would like to disclose closer to the date of release." regional movie Zapatlela 2-3D within 10 days of our company launch.
" I have known Arjun & Kartik for a past few years and have been aware about their work on the 50 strong IP's created during their days at Reliance. Thus when they approached me for Zapatlela 2 -3 D  marketing & presented us with a great plan we thought about  getting them onboard for the same. Also we at Viacom believe in working with a young and fresh team at various levels.  Also since
Movie marketing at various levels such as alliances and tie-ups help grow the top line and visibility for the movie. We look forward to working with the team & create an exciting association" Said Jayesh Muzumdar, Business Head ,Viacom Regional Movies.
Tags: 72 Miles – Ek Pravas Global Sports Entertainment And Media Solutions Kumari Gangubai Non Matric Movie Marketing Viacom Motion Pictures Zapatlela 2 -3D