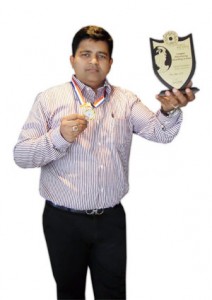 Global Advertisers owns the largest hoarding in Asia, according to the World Records of India - 2014.
Global Advertisers is known for its big-format hoardings with the most number of corridor branding opportunities in the Mumbai Metropolitan Region, which include their premium corridor branding sites at three important points of entry into the city - Sion, Dahisar and Thane.
The record-winning hoarding is front-lit and stands at 120 X140 feet (Total area 16,800 square feet), overlooking the Kalanagar junction in Bandra, Mumbai. The hoarding connects the two important business districts of the city - Fort in South Mumbai and the Bandra-Kurla Complex.
"We went through data from record books across the world; researched records held earlier and also visited the site of Global's billboard in Mumbai before confirming the record. I extend my heartiest congratulations to Mr Sanjeev Gupta and Global on this singular achievement," said Pavan Solanki, founder of World Records of India.
Headquartered in Mumbai, Global's branches are spread across Tier-I and Tier-II cities of India.Global offers 360 degree media planning and buying services, and is widely reputed as a product as well as price innovator that has ncorporated features like rotation, barter and easy payment plans into its tailor-made offerings for clients across sectors like banking, real estate, IPOs, entertainment, fashion and FMCG.
Sanjeev Gupta, Managing Director, Global Advertisers, was understandably ecstatic. "I owe this achievement to the support of my family, my clients, and my team at Global and above all to the blessings of my guru Mamtamai Shri Radhe Guru Maa. We are all very happy at receiving the award."
Tags: Asia biggest hoarding Global Advertisers Sanjeev Gupta World Records of India