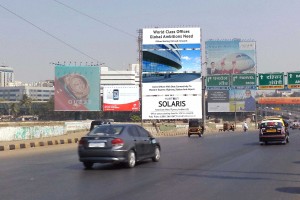 Mumbai: Indian outdoor industry is expanding it's reach, visibility and most importantly the quality of inventories with the help of big players like Global Advertisers. The agency has added another diamond by acquiring India's largest hoarding at Bandra.
The hoarding is located at ROB flyover of Bandra. Due to its magnificent size, it can be seen from more than 3 km distance, 360 degree angle,  and offers uncluttered view. It also has wide scope of innovation for high profile brands along with best illumination for night view.
Sanjeev Gupta, MD, Global Advertisers says "As we believe in quality and superior displays since our inception, this hoarding has certainly created a new landmark for us. Global has wide range of hoardings for brands which taps different customer segment including emerging areas such as Sion (17 Sites) , Thane (16), Andheri 27 and Kandivali (9). With the addition of this new site whose quality is far ahead from any competitor will help us in influencing big brands of automobile, real-estate, fashion and entertainment."
Bandra, largely caters to high profile families, youngsters and corporates, thus making it highly popular amongst the advertisers. With the addition of this site, Global Advertisers has certainly scaled new heights of client satisfaction.
Tags: Bandra Global Advertisers largest size hoarding in India Sanjeev Gupta