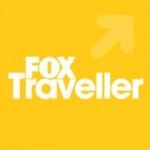 FOX Traveller has partnered with Viacom 18 Motion Pictures upcoming blockbuster Queen.
What happens when a girl who has never travelled within India by herself goes to Paris and Amsterdam alone? Catch this exhilarating and fun journey of "Queen" releasing on 7th March- exclusively on Fox Traveller on March 5, 2022 @ 8:30 pm.
The movie "QUEEN" resonates with what FOX Traveller stands for- "this journey is fun!" QUEEN celebrates what life offers, through unplanned trips, unprepared quests and unexpected twists, making the journey spontaneous, exciting and enjoyable! This exclusive first watch of the 'Making of QUEEN' takes you through an adventurous and a quirky journey of Kangana Ranaut where she discovers herself while exploring the unknown.
The making of this movie is no less a pot boiler with all the excitement, confessions and humorous moments between the cast and crew of QUEEN. Explore what binds the cast, what stresses them out, what pushes, tugs, bends and heightens their endeavour and ultimately tells a captivating story. This making, captures a series of crazy, candid and amusing moments of the entire crew as they travel through the beautiful cities of Paris, Amsterdam, Delhi and their experience of meeting new people throughout this memorable journey.
Along with this, FOX Traveller has also launched an interesting and engaging social media Meet & Greet Contest on Facebook. On since Feb 17, participants need to answer one simple question related to Paris and Amsterdam.
Tags: Fox Traveller Queen Viacom 18 Motion Pictures