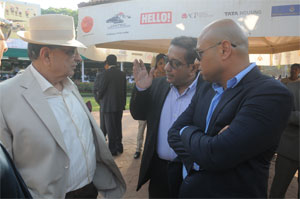 Forbes India organised the fifth edition of Forbes India Trophy on the grounds of the Mumbai Turf Club on March 23.
Commenting on the event, Anil Uniyal, CEO, Forbes India said, "The races have always excited our readers and patrons. The objective of organising Forbes India Trophy is to focus and engage with our audience by offering them unique experiences that befit their taste and stature."
True to its brand association, the race showcased influence and power as a definite character. The event was attended by a mix of corporate heads, racing enthusiasts, celebrities and socialites, amongst others.
The high-tea saw the who's who of the corporate world and the glitterati unwind as they watched the race, while being lavished with fine wines and the choicest horse d'oevres.
In the Members' Enclosure were luminaries such as Natasha & Adar Poonawala, Vidya Malwade, Kamal Sidhu, Aditi & Arzoo Gowitrikar, Madhoo Shah, Laila Khan, Vikram Phadnis, Tanaz Doshi, Raell Padamsee, Ash Chandler, Queenie Singh, Cyrus Poonawala, Noemie Levieux – Brand Ambassador, Remy Martin, India , Priyadarshani Rao and many more.
Tags: Forbes India Forbes India Trophy Mumbai Turf Club