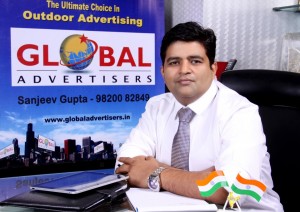 Mumbai: E&G Global Estates Ltd recently launched Green Courts – Koroli, a 16.7 acre-large project in the heart of Nashik that can provide its dwellers a peaceful and rejuvenating second home. E&G Global Estates Ltd has roped in India's premium outdoor agency - Global Advertisers to promote this project.
Global Advertisers chalked out prominent areas, used media tool and innovative ideas to execute the campaign on a grand scale. The agency has launched the campaign in two phases. The first phase started with a teaser campaign which generated intense curiosity through larger than life billboards that carried the messages of Mother Nature. For the second phase, Global deployed giant size billboards across Mumbai which gave delightful project view of koroli Park. Global Advertisers worked out a plan in the shortest span of time to meet the deadlines.
Global has also added value to this campaign by engaging 93.5 Red FM to take the brand beyond any boundaries.
Commenting on project, Sanjeev Gupta, MD, Global Advertisers said, "We are happy to be associated with E&G Global Estates Ltd. Our team has given 360 degree brand visibility to Green court in Mumbai. The outdoor campaign has planned to attract attention of target audience; the campaign has created awareness about the project as well as its brand identity".
Tags: E&G Global Estates Global Advertisers Green Courts Koroli Hills