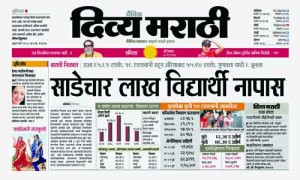 Noida: Divya Marathi, a well known Marathi newspaper in India turns online to share Maratha news live.
From Mumbai news to Pune news, now it is easy to access all news in Marathi over internet through DivyaMarathi dot com. It is easy, instant and free to use online newspaper. This newspaper is an online version of Divya Marathi.
Marathi has been regarded as 19th most spoken language in the world. In such scenario, demand for online Marathi newspapers cannot be ignored. With online version of Marathi newspapers, it is easy to access them anytime, anywhere through smart devices. Such initiatives also make people technology friendly. It shares national and international news on a diverse range of topics. The website is also enhanced with many smart features from time to time to make it interesting for people to access Marathi news.
Tags: digital edition Divya Marathi