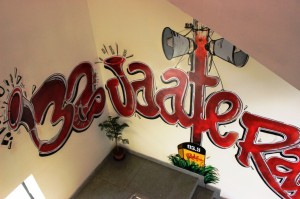 93.5 RED FM in creative collaboration with Delhi Street Art has revamped its entire Noida office. In line with its 'Bajaate Raho' spirit, the office premises now reflects in a fun and quirky way everything that the station stands for- Delhi, Music, Bollywood, Cricket and Celebrities.
Commenting on the revamp, Nisha Narayanan, COO, 93.5 RED FM said, "The idea stemmed from a simple thought- our office should be a reflection of our brand. And we therefore decided to paint the walls RED, literally so! We were lucky to have found similar mindsets and some superb creative talent in people from Delhi Street Art".
"From quirky scenes of everyday life in the cities, to Musical Instruments, Bollywood to Cricket, and Comics to Caricatures of Celebrities, the walls have them all. Now the entire office has been revamped, and I am sure that these vibrant & colourful walls will induce greater spirit and love for brand RED and will be a continuous inspiration for all of us here." she added.
Yogesh Saini, Founder, Delhi Street Art said, "It's been a very exciting opportunity for Delhi Street Art to partner with RED FM. The RED FM team has been amazing in expressing their interest in and appreciation for the art we have created on their wall spaces."
Tags: 93.5 RED FM Delhi Street Art