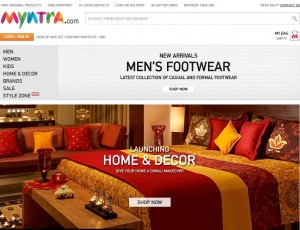 Bangalore: Myntra.com, India's leading fashion and lifestyle ecommerce portal, has been ranked the top ecommerce website in India for June 2013, achieving the highest percentage reach of 17.1%, according to a latest report by comScore.
The report also states that the portal received over 13.17 million unique visits during the month, which was the highest among all ecommerce sites in the country.
Myntra.com has been consistently ranked among the top three most trafficked ecommerce websites in the country and has edged past Flipkart.com and Jabong.com to gain maximum unique visits and percentage reach during the month of June 2013.
According to the report, Myntra.com registered 13.1 million unique visitors out of 77.1 million as of June 2013, followed by Flipkart.com which had 12.6 million visitors, accounting for 16.3% of the Indian ecommerce population, and Jabong.com registering 12.4 million unique visitors, accounting for 16.1%.
A set of focused campaigns launched by Myntra.com during the month of June, including the Midnight Sale to launch EOSS, were some of the primary drivers for growth.
On the social front, Myntra.com has over 1.4 million fans on Facebook and recently crossed 10,000 followers on Twitter. The brand is also active on digital and offline marketing channels.
Tags: comScore fashion and lifestyle ecommerce portal Myntra.com