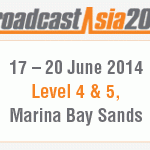 The BroadcastAsia2014 International Conference will kick off on 17 June with a welcome address by StarHub's Chief Technology Officer Mock Pak Lam, followed by a keynote address, 'A Global Perspective on How OTT is Changing the Competitive Landscape of the Broadcasting Space', which will delve into the opportunities for growth and challenges faced by broadcasters in Asia.
Following the opening keynote address comes the - Captains of the Industry Dialogue 1′, where the OTT conversation continues to flow among a panel of distinguished speakers from Amazon Web Services, Ericsson, HBO Asia, Irdeto, Samsung, StarHub and Telekom Malaysia.
Delegates will hear these experts probe into the feasibility of OTT becoming the future of TV - how this evolution would impact operators and broadcasters in Asia. They will also discover the newest technologies and discover innovative methods that can help companies effectively face key challenges and capitalise on growth opportunities.
Media Prima Digital, the digital arm of Media Prima Berhad and Malaysia's number one digital media group, will be presenting a case study at the conference on 'How OTT is driving business growth in broadcasting'.
Tags: Amazon Web Services BroadcastAsia 2014 Ericsson HBO Asia Irdeto OTT conversation Samsung StarHub Telekom Malaysia