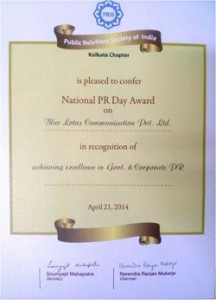 Blue Lotus Communications Pvt. Ltd. a multi-award winning, premier Public Relations agency with a 12 year track record, was recognised by the Public Relations Society of India (PRSI), Kolkata Chapter, for achieving excellence in Government & Corporate PR and conferred the coveted National PR Day Award on April 21st, 2014.
The PRSI is the national association of public relations practitioners and communication specialists in India. The society has 30 chapters spread all over the country with over 3000 members drawn from public, private and service sectors as well as government and academic bodies.
Thrilled on the occasion, N. Chandramouli, CEO, Blue Lotus Communications said, "It is a great honour when the industry peers recognise our commitment to excellence. We are delighted at receiving this award and it only encourages us to do even better. We thank PRSI for recognizing our achievements."
In 2010, Blue Lotus Communications was awarded 'Indian Consultancy of the Year' by The Holmes Report – a global body for the public relations industry, and in 2011, industry peers across India got together to vote them the 'Best PR Agency of the Year' under the ambit of the India PR & Corporate Communications Awards.
Tags: Blue Lotus Communications PRSI Public Relations agency Public Relations Society of India