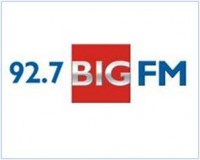 BIG FM along with India Tourism Development Corporation (ITDC) presents a unique offering for listeners this holiday season.
Going with its 'Hit The Hit Rahenge' positioning, Delhi's leading FM station promotes monumental heritage and spreads awareness about historical places in Delhi with Ishq-E-Dilli.
Listeners can now tune-in to 92.7 BIG FM to upgrade their knowledge on heritage sites like Purana Qila and Red Fort and win couple tickets to the unique sound and light shows happening at these two iconic locations!
The light & sound show titled 'Ishq-E-Dilli' re-creates historical events of India's history connected with architectural marvels like Purana Qila and Red Fort. Purana Qila, one of the oldest forts in India, was built by Pandavas as their capital in the city of Indraprastha.
The famous Red Fort was built by fifth Mughal Emperor Shah Jahan in 1648 and is an iconic symbol of India. The Ishq-E-Dilli contest will be run on 92.7 BIG FM over the next six months where listeners can win couple passes for the highly informative and entertaining show at Purana Qila and Red Fort.
In the last weekend, 92.7 BIG FM's RJ Gaurav interacted with contest winners and the audience during the light & sound show, and the conversations went LIVE on air. The shows start at 7:00 pm at both the Forts.
Tags: Big FM Hit The Hit Rahenge India Tourism Development Corporation ITDC