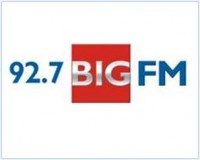 Mumbai: 92.7 BIG FM has announced its association with Celebrity Cricket League (CCL-4) as the official radio partner.
Starting 25th January 2014, 92.7 BIG FM will entertain its listeners with live updates from the tournament across its 45 station network.
Additionally, BIG MAGIC Bihar & Jharkhand, Reliance Broadcast Network Limited's regional entertainment channel has acquired telecast rights to air 4 matches of Team 'Bhojpuri Dabangs' along with 2 semi finale and 1 finale match starting 25th January.
For the fourth edition of popular CCL 2014, 92.7 BIG FM will host live match updates, detailed match analysis, exciting contests and more. 92.7 BIG FM RJs will be present at all the matches of CCL 4 and will engage the crowd with spot contests, polls, winner-predictions etc. Lucky listeners will also get a chance to watch the matches live and meet their favourite celebrities at the tournament.
Fans from Bihar and Jharkhand can also watch their favourite stars participating in the tournament on BIG MAGIC Bihar and Jharkhand. Team 'Bhojpuri Dabangs' is owned and captained by film actor Manoj Tiwari and consists of other celebrities from the Bhojpuri entertainment industry. The regional channel from Reliance Broadcast Network Limited will also host programmes and contests around the property.
Vishnuvardhan Induri, Founder and MD of CCL said, "We are happy to be associated with BIG MAGIC Bihar and Jharkhand and 92.7 BIG FM, one of the widest radio networks. We are sure this will help us reach wider areas and especially the Bhojpuri hinterland."
Tags: Big FM Celebrity Cricket League