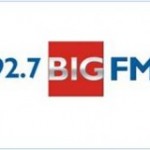 BIG FM has announced an increase in its advertising rates, raising ER's (effective rates) by 20-30%. The decision for the hike is more a price correction given the network strength and more recently the superlative performance of the network – both in metros and emerging markets.
With marketers exceedingly recognizing the power of the medium and utilizing it to their advantage, the timing couldn't be more perfect for an upward revision in rates.
The Network which has earned the reputation of doing things innovative, hit yet another success with its decision to go 100% retro in several markets. Its core metros of Delhi, Kolkata and Mumbai, which play the evergreen classics, have resonated excellently with local audiences and rank amongst the top stations in the respective market in terms of share and TSL (time spent listening).
Bangalore station which plays 100% Kannada music, again a pioneering step right since launch is a favorite and ranks No.1 in cumes (RAM Week 5 - January 26'14 – February 1 '14). In the emerging markets too, the brand has re-defined the radio entertainment experience and is a leading player.
With clutter breaking content and credible voices like Neelesh Misra, Annu Kapoor, Talat Aziz, Sabyasachi Chakraborthy, Chandru - Geetha and many more, the stations have triumphed beating competition hands down.
Shows like Suhaana Safar with Annu Kapoor and Yaadon ka Idiot Box with Neelesh Misra have actually grown the radio audience universe, attracting newer listeners to the Station. Se Shudhu Gaaner Din with Sabyasachi Chakraborthy (Kolkata), the breakfast show with RJ Siddharth (No.1 in Mumbai) Retro Talkies with Sihi Kahi Chandru and Geetha (Bangalore) … have offered listeners a unique and extremely enriched entertainment package and today rule the charts emerging winners amongst audiences.
Speaking on the development, Ashwin Padmanabhan, Business Head, 92.7 BIG FM said, "92.7 BIG FM is amongst the leading radio networks of the country. Our product mix, ability to innovate, solutions approach and unparalleled reach sees us catering to almost 1800 clients on a monthly basis. It is now time to consolidate, while ensuring the aural experience is of best quality. This price correction will ensure that the core product and promise remain relevant to the audiences while delivering optimum value to the advertisers."
Tags: advertising rates Big FM local audiences radio audience Suhaana Safar with Annu Kapoor Yaadon ka Idiot Box with Neelesh Misra