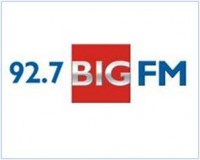 Mumbai: BIG FM's Mumbai Station announces yet another programming innovation that breaks the clutter - with a retro positioning.
With its new tag line – 'Hit the, Hit Rahenge', the Station offers audiences evergreen music from the 60s to the 80s, peppered with special heritage songs from the 50s.
This announcement comes close on heels to its announcement of its new show 'Suhaana Safar with Annu Kapoor', which, within just a week of launch is already getting rave reviews and excellent feedback from audiences.
With its new positioning, 92.7 BIG FM's Mumbai Station continues to engage with listeners while offering them some of the choicest music that never cease to offer aural pleasure.
The music mix will comprise of melodies from RD Burman, Kishore Kumar, Lata Mangeshkar and Asha Bhosle along with that of Mohammad Rafi and other veteran artists, while alongside showcasing the best songs from movies by actors like Shammi Kapoor and Rajesh Khanna.
Along with the best music mix, the revamped content strategy will bring to audiences a plethora of current happenings in the city including stock and gold updates, city affairs, traffic and weather updates, sports, music-related trivia and more.
Tags: Big FM evergreen music from the 60s to the 80s retro positioning