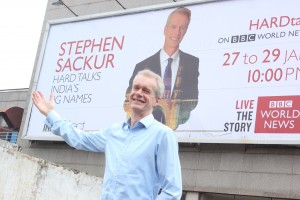 New Delhi: BBC World News flagship interview programme HARDtalk puts India in the spotlight next week as it airs three interviews exploring the country's political, economic and social issues.
Presenter Stephen Sackur interviewed the Finance Minister Palaniappan Chidambaram, the Chief Minister of Jammu and Kashmir Omar Abdullah and women's rights activist Kavita Krishnan, secretary of the All India Progressive Women's Association. All the interviews were filmed in Delhi this week.
In his interview Palaniappan Chidambaramtalked about India's economic record, infrastructure and growth as well as commenting on the BJP's NarendraModi's economic plans.
In Hardtalk's second interview Omar Abdullah discussed the problems of Jammu and Kashmir, his family history and his opinion on the changing dynamics of Indian politics.
In the final interview in this series Kavita Krishnan speaks about gender politics, the caste system, rape and violence against women.
[stextbox id="alert"]The interviews will be broadcast next week on BBC World News at the following times:
•Palaniappan Chidambaram – Monday 27th January at 10.00am, 3.00pm and 11.00pm
•Omar Abdullah – Tuesday 28th January at 10.00am, 3.00pm and 11.00pm
•Kavita Krishnan – Wednesday 29th January 10.00am, 3.00pm and 11.00pm[/stextbox]
Tags: BBC show Hard Talk